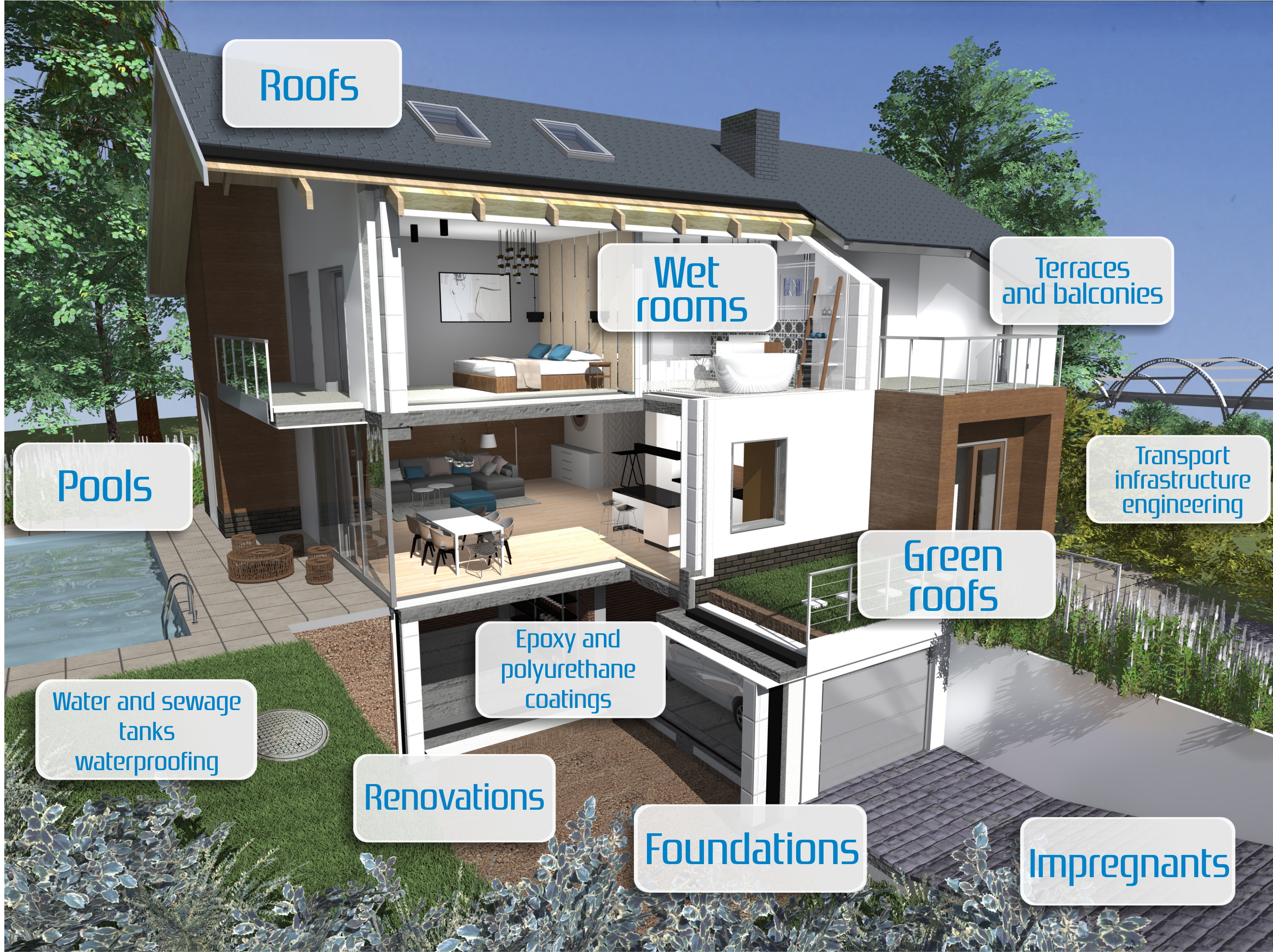 Terraces and balconies
The biggest challenge during the construction of a terrace or balcony is to ensure proper waterproofing. To avoid unnecessary complications should put on a proven system solutions IZOHAN.
Transport infrastructure engineering
Specialist product line IZOHAN has all the approvals for use in construction objects of engineering communications.
Impregnates
Products IZOHAN secure any type of surface against the negative effects of mechanical and chemical. The impregnated material will retain its properties for a long time so you avoid unnecessary repair work.
Green roofs
Green roofs have become an integral part of sustainable urban development. They have been pledged as public buildings, building commercial and residential areas and private homes.
Foundations
Foundation walls in contact with the ground are constantly exposed to moisture because their waterproofing is so important. IZOHAN products secure any long-term investment, so you avoid unpleasant complications.
Epoxy floors and coatings
Floors and epoxy coat­ings IZOHAN find their appli­ca­tion on all kinds of sur­faces exposed to mechan­i­cal and chem­i­cal in gen­er­al con­struc­tion, indus­tri­al, hydro, as well as foot­paths and horsemen.
Renovations
When you need to repair or restore the waterproofing should put on a proven system solutions IZOHAN.
Water and sewage tanks waterproofing
Robust and accurate performance insulation of tanks for water and impurities using products IZOHAN protect us from the necessity of additional sealing structure in the future.
Pools
Waterproofing pools is constantly exposed to a high-pressure water and to chemicals. Not every material is able to withstand such a load. IZOHAN products provide effective waterproofing for years.
Roofs
Very wide range of products IZOHAN allows you to perform both reliable roofing shingles, and modern jointless insulation coatings, building protection against water and moisture.
Wet rooms
Wet rooms are places with high humidity and high risk moisture by continuous or periodic contact with the ground water. The ideal solution for this type of rooms are modern and ecological insulation system IZOHAN.