IZOLMAT PLAN PYE PV180 S4,0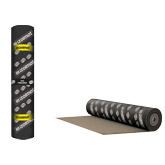 Description

SBS-modified heat-welded underlayer bitumen membrane

Roll dimensions (m)

7,5 x 1

Thickness (mm)

4.0 ± 0.2 mm

Reinforcement

polyester

Asphalt type, cold flexibility (°C)

SBS mod. -15 °C

Flow resistance (°C)

+95 °C

Tensile strength (N/50mm) (Longitudinal/Transversal)

850 ± 150 / 550 ± 150

Elongation (%) (Longitudinal/Transversal)

50 ± 10 / 50 ± 10

Granules type

fine grain

Fire rate
Usage
SBS-modified heat-welded underlayer membrane for terraces, balconies and foun-dations as well as the first roofing membrane layer. With strong polyester reinforcement of high elasticity and tensility, can be used for mechanical fastening.
Produkty z grupy: UNDERLAYER BITUMEN MEMBRANES

Realizujemy projekt finansowany z budżetu Państwa oraz ze środków Unii Europejskiej z Europejskiego Funduszu Rozwoju Regionalnego. Program Operacyjny - Innowacyjna Gospodarka, lata 2007 - 2013. Działanie 1.4-4.1. Nazwa Beneficjenta: IZOHAN sp. z o.o.