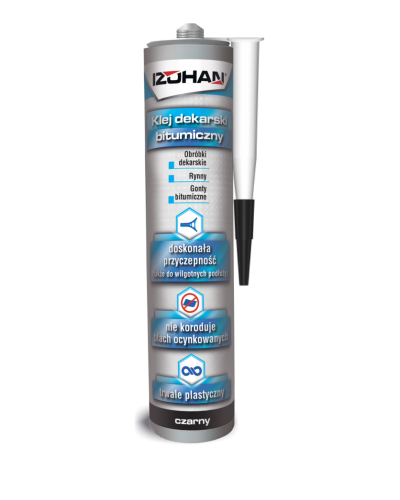 Description

permanently plastic and elastic, one-component roofing adhesive and sealant

Consumption

0.8 - 1.2 kg/m2

Adhesion ability

approx. 320 N

Consistency

plastic paste

Ignition point

min. 40 °C

Available packages

300 ml cartouche, 12 cartouches in a carton box
Usage
Fixing sheathing made of membrane, bitumen shingles, bitumen corrugated slabs, etc.; sealing joints between flashings, chimneys, eaves, wind braces, drains, skylights, roofing membranes; filling and refilling gaps in roofing membranes; emergency roofing repairs (removal of blisters, sealing cracks and membrane joints).
Properties
Very good adhesion properties; very good adhesion to mineral substrates and roofing membranes; particularly resistant to short and long term weathering; resistant to atmospheric conditions, high and low temperature; easy and quick in use (ready-to-use); hardens by solvent evaporation and forms highly elastic sealing.
Composition
asphalt, resins, solvent, fibres, additives
Produkty z grupy: ADHESIVES, SEALANTS AND GROUTS

Realizujemy projekt finansowany z budżetu Państwa oraz ze środków Unii Europejskiej z Europejskiego Funduszu Rozwoju Regionalnego. Program Operacyjny - Innowacyjna Gospodarka, lata 2007 - 2013. Działanie 1.4-4.1. Nazwa Beneficjenta: IZOHAN sp. z o.o.