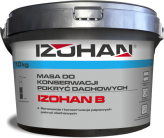 Consumption

approx. 0.5 l/m2 per coat

Temperature of use

from +5°C up to +25°C

Drying time

approx. 24 h

Available packages

10 l, 20 l
Usage
Conservation and renovation of roofing membranes.
Properties
▶   watertight
▶  easy and qiuck in use (ready-to-use)
▶   can be applied with a paint brush or a roofing brush
▶   perfect penetration into insulated surfaces
▶   forms coating resistant to atmospheric factors
▶   regenerates and conserves asphalt roofing membranes
Composition
mix of asphalts, solvents, fillers and improvers
Produkty z grupy: Solvent-based bitumens

Realizujemy projekt finansowany z budżetu Państwa oraz ze środków Unii Europejskiej z Europejskiego Funduszu Rozwoju Regionalnego. Program Operacyjny - Innowacyjna Gospodarka, lata 2007 - 2013. Działanie 1.4-4.1. Nazwa Beneficjenta: IZOHAN sp. z o.o.